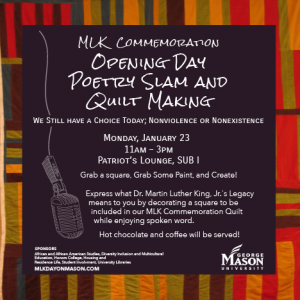 Monday, January 23
MLK Opening Poetry Slam and Quilt Making
11am –3pm
Patriot's Lounge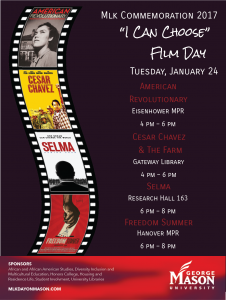 Tuesday, January 24
I Can Choose: MLK Film Day
Cesar Chavez & The Farm
4 – 6pm, Gateway Library
Chronicling the birth of a modern American movement, Cesar Chavez tells the story of the famed civil rights leader and labor organizer torn between his duties as a husband and father and his commitment to securing a living wage for farm workers. Passionate but soft-spoken, Chavez embraced non-violence as he battled greed and prejudice in his struggle to bring dignity to people. Chavez inspired millions of Americans from all walks of life who never worked on a farm to fight for social justice. His triumphant journey is a remarkable testament to the power of one individual's ability to change the world.
Selma
6 – 8pm, Research Room 163
The unforgettable true story chronicles the tumultuous three-month period in 1965, when Dr. Martin Luther King, Jr. led a dangerous campaign to secure equal voting rights in the face of violent opposition. The epic march from Selma to Montgomery culminated in President Johnson signing the Voting Rights Act of 1965, one of the most significant victories for the civil rights movement. Director Ava DuVernay's "Selma" tells the story of how the revered leader and visionary Dr. Martin Luther King, Jr and his brothers and sisters in the movement prompted change that forever altered history.
American Revolutionary
4 – 6pm, Eisenhower Media Room
Grace Lee Boggs, 98, is a Chinese American philosopher, writer and activist in Detroit with a thick FBI file and a surprising vision of what an American revolution can be. Rooted in 75 years of the labor, civil rights and Black Power movements, she continually challenges a new generation to throw off old assumptions, think creatively and redefine revolution for our times.
Freedom Summer
6 – 8pm, Hanover Multi-Purpose Room
The film narrates the events of the 1964 Mississippi Freedom Summer, when more than 700 student activists took segregated Mississippi by storm because of underscored by the systematic exclusion of African Americans from the political process.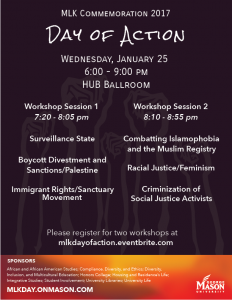 Wednesday, January 25
Day of Action
6pm – 9pm
HUB Ballroom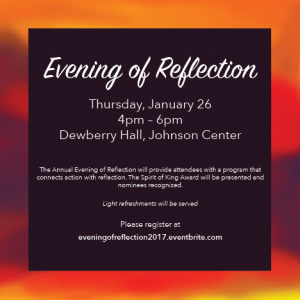 Thursday, January 26
Evening of Reflection
4– 6pm
Dewberry Hall, Johnson Center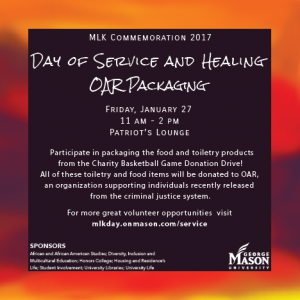 Friday, January 27
MLK Day of Service and Healing
http://mlkday.onmason.com/service/
Saturday, January 28
Annual Charity Basketball Game
3 – 6pm
RAC